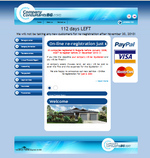 Web design and web development. Content management system.

project concept,
web design,
web development,
content management,
Programming,
SEO - search engine optimisation

Company Consultants BG - Re-registration of companies, legal advice, business consulting, property management, management. Company Consultants Bulgaria: company re-registration in Bulgaria, Bulgarian company re-registration, company reregistration in Bulgaria, Bulgarian company reregistration, legal services Bulgaria, accounting services in Bulgaria

technology:
php, mysql, AIAX, CSS, HTML, etc

Additionally we have design banners for site populiarity.

Our duty included also:
- site optimisation and search engine submission
- data support.

The project has been developed for 10 days.